NBA – Chet Holmgren's crazy match, fans get excited about Wembanyama: "He's…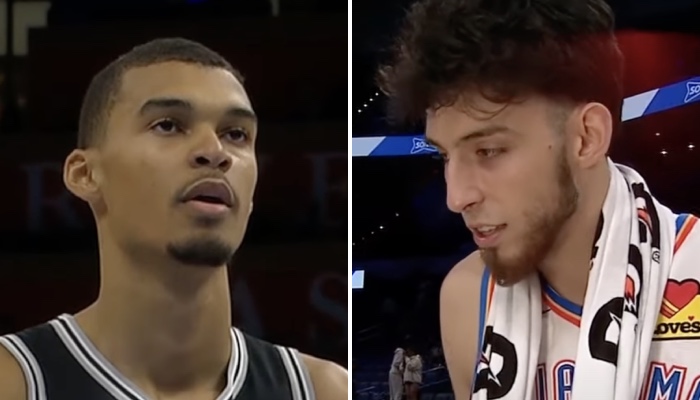 Traveling to Golden State, the Thunder emerged victorious in their duel this Saturday evening against Stephen Curry's gang.
Chet Holmgren saved his family, setting social media on fire.
The debate with Victor Wembanyama continues to stir the internet.
Oklahoma City is to be taken very seriously in the Western Conference this season.
We do not yet know if Shai Gilgeous-Alexander's teammates can play for the title, but their record of 9 wins for 4 losses must be respected.
The latest success took place against the Warriors this Saturday, after overtime, with a score of 130-123.
SGA created a carnage with 40 points, while Chet Holmgren saved his own.
CHET HOLMGREN. 🔥🔥🔥

— Hoop Central (@TheHoopCentral) November 19, 2023
Chet Holmgren releases a benchmark match
While Andrew Wiggins thought he had given the Dubs the victory with a winning shot, Holmgren answered him at the buzzer, sending the Thunder into overtime.
The young rookie finished with 36 points on 14-22 shooting, 10 rebounds, 5 assists and 2 blocks.
A great performance for Holmgren, and a debate as sensitive as ever with Victor Wembanyama for rookie of the year.
HES SO MUCH BETTER THAN WEMBY

— . 👑 (@feellikebron23) November 19, 2023
He is so much better than Wemby
This is wild… Chet and Wemby: https://t.co/fJGmHiRZf1 pic.twitter.com/a63cVusAPp

— Tayler Peterson (@Tayler_P15) November 19, 2023
It's crazy… Chet against Wemby
I've said it everywhere but imagine Wemby with SGA as the primary and Chet with Sochan as the primary. Chet is good but what are we doing here https://t.co/l5ZDpXJMBD

— Zach Harper (@talkhoops) November 19, 2023
Just imagine Wemby with SGA and Chet with Sochan. Chet is good but what are we doing here
The debate between Chet Holmgren and Victor Wembanyama has only just begun.
A certain rivalry between the two, with comparisons emerging match after match. One thing is certain: the league is in good hands with them.