NBA – First turbulence for the Spurs and Wembanyama? "They have the…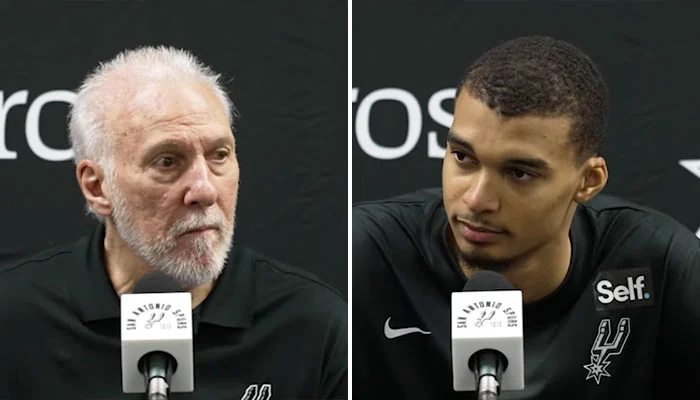 On a series of 8 defeats, the Spurs missed a big opportunity against the Grizzlies this Saturday.
The next matches will be more difficult for Gregg Popovich's men. And we are starting to worry on the supporters' side…
We suspected that the start of the Spurs season was going to be difficult, but perhaps not to this extent.
Gregg Popovich's men are relatively young, like Victor Wembanyama, which means that we have to give them time.
They have a lot to learn, with this series of 8 defeats as proof. But the San Antonio franchise may regret its missed opportunity against the Grizzlies.
The very tough schedule of the Spurs
Despite a big advantage of more than 10 points, the Spurs collapsed against the teammates of Jaren Jackson Jr.
The defeats kept coming and the upcoming schedule was not kind to Wembanyama and his team either.
Just the next two games will take place against the James Harden version of the Clippers. And that's just the beginning.
The Spurs had the toughest strength of schedule so far coming into tonight. This game against a skeleton Grizzlies crew was their best shot at busting the streak for a while. pic.twitter.com/liLp1pSIJY

— Josh Paredes (@Josh810) November 19, 2023
The Spurs have the toughest schedule coming up starting tonight.
This game against the Grizzlies was their best chance to end their streak any time soon.
Twice the Clippers, the Warriors then finally the Nuggets: here are the 4 upcoming games for the Spurs.
We then find the Hawks, the Pelicans, the Rockets and the Lakers, twice. Not to mention the Bucks almost immediately.
It's not for nothing that according to statistics, the Spurs literally have the toughest upcoming schedule in the NBA.
Opportunities to win for such a young roster are rare, so Gregg Popovich and his men may regret this opportunity against the Grizzlies.
We Are tanking again

— Go-Spurs-Go (@leo1105) November 19, 2023
We tank again
While the Spurs' period is already difficult, the upcoming schedule does not help their situation.
Victor Wembanyama hopes to create a surprise in one or two matches, but it will not be easy to dominate these big names.