NBA – Shocked, the viral reaction of a player to Wembanyama's size:
"You are…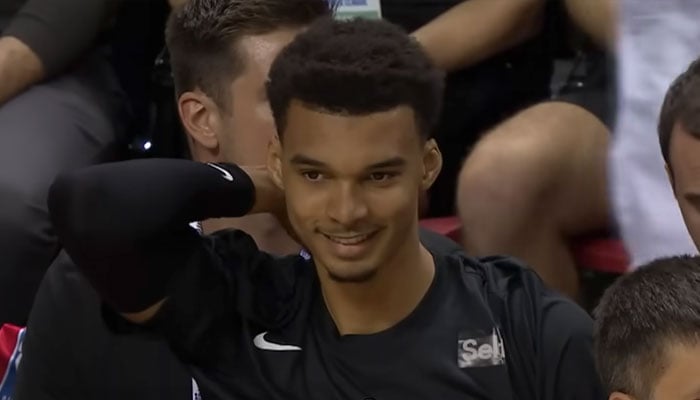 Listed at 2m24 according to the league, Victor Wembanyama is nevertheless capable of some pretty crazy things on the floor.
But he is also a target for certain players, determined to get the best of the Frenchman. And we may have a new opponent.
In great success for his rookie season, Victor Wembanyama continues to make a big impression with the Spurs.
Despite the defeat this Friday evening against the Kings, the Frenchman had a good game with 27 points and 9 rebounds, so much so that the opposing players released a lot of praise.
But the priority remains winning, even if a few dunkers have another idea in mind.
Wembanyama targeted by certain players?
We know, for example, that Ja Morant, upon his return to the court, will not say no to a small poster on Wembanyama's head. A dunk on a 2m24 player?
That's quite a feat. But Morant is not the only one, since Shaedon Sharpe works miracles for the Blazers with his 18.6 points average.
The sophomore also showed all his relaxation during a recent match.
it's still real to me damn it 😭 pic.twitter.com/pW72wvYRuJ

— Portland Trail Blazers (@trailblazers) November 15, 2023
With the departure of Lillard, as well as the injuries to Anfernee Simons and Scoot Henderson, Sharpe is making fans happy.
A promising player who will have to be counted on in the future, and he has a sense of spectacle as we can see. His goal ?
Why not dunk on Wembanyama when they meet. This will be the case at the end of December, and twice.
Present with the journalists this Friday evening, he did not hide his surprise at Victor's announced size. A mission that promises to be arduous for the nugget of the Blazers:
Shaedon Sharpe being informed last night of how tall Wemby is is iconic lol pic.twitter.com/F75t3Z5M6P

— Brenna Greene (@BrennaGreene_) November 18, 2023
Shaedon Sharpe: "If I see him maybe I'll try to dunk on him. Shall we face him next month? If he's there, I'll try.
What does he do ? 2m16? 2m18? (The journalists tell him 2m24) Are you serious? »
Shaedon Sharpe will take a chance on Victor Wembanyama, only if the opportunity presents itself.
His priority remains to win with the Blazers, which is difficult this season. Fortunately the back is there to bring a little happiness to his family.