NBA – After facing Wembanyama, Kings players shocked: "He's so…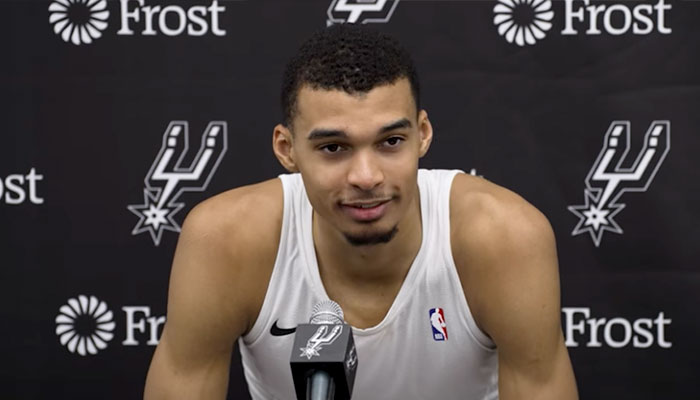 Victor Wembanyama has not gone unnoticed on the NBA courts since his debut.
Fans are impressed with his performance, as are some of his opponents. The Kings players had things to say about the Frenchman after the final buzzer.
With 27 points and 9 rebounds in just 30 minutes, Victor Wembanyama delivered another good performance for the Spurs against Sacramento.
Once the Frenchman manages to correct a few errors, such as shots that are too fast, opposing defenses will have to fear the worst. For now, the Kings have done a good job of limiting the former Mets player.
Chris Duarte was also delighted following this success.
The Kings unanimously beat Wembanyama
Chris Duarte on facing Wemby tonight: "It's definitely somebody you got to think twice before you go to the paint, because he's so tall. But hey, we took advantage of just by being physical and make it tough for him." pic.twitter.com/yxewTcUGnY

— Paul Garcia (@PaulGarciaNBA) November 18, 2023
Chris Duarte after facing Victor Wembanyama tonight:
"He's definitely someone you have to think twice about going into the paint with, because he's so big. But hey, we took the advantage by playing physical and making it difficult for him.
Often unstoppable in the paint, Wembanyama was called upon physically by the Kings, with a rather satisfactory result despite his 27 points. The defenses are starting to adjust against the French and we feel that physical play can make the difference.
Malik Monk was in awe of Wemby tonight 💀 pic.twitter.com/1xsM8a4vJZ

— Kings on NBCS (@NBCSKings) November 18, 2023
Malik Monk on Wembanyama: "He covers so much ground with just a few steps it's crazy.
He took two steps from the paint and took a three-pointer. I don't know anyone else who can do this. When he gains power he will really become a problem.
After the match, De'Aaron Fox also spoke out about Wembanyama. Author of 43 points, the leader appreciated this clash:
De'Aaron Fox on Wemby: "He's a special player, extremely special player. When he's rolling, you have to be under him because if they throw the ball up, there's literally nothing you can do." pic.twitter.com/sc9nBCgJI9

— Paul Garcia (@PaulGarciaNBA) November 18, 2023
De'Aaron Fox on Wemby: "He's a special player, very special. When he rolls (on a pick-and-roll, editor's note), you have to be under him because if his teammates throw him the ball, there is nothing you can do. »
Despite Victor Wembanyama's good game, and a shower of compliments, the Kings managed to take a well-deserved victory. The Frenchman's performance remains solid, to the point where Sacramento is happy not to cross his path for some time…