Widely known as Stephen Curry's younger brother, there's no question that Seth Curry isn't a slouch. The younger Curry is also a knockdown shooter, having been a 44 percent 3-point shooter from deep in his career. While he isn't an NBA-level All-Star like his older brother, Curry has done enough to become a legitimate NBA starter.
Given Curry's contributions to the NBA, have you ever wondered how a guy like him lives? Well, wonder no more. This article features Seth Curry's $3.6 million home in Dallas.
Given that Curry's first stint with the Dallas Mavericks came in 2016, it isn't surprising that the shooting guard lived in Texas for quite some time. However, after 2018, Curry bounced around to different teams, including the Portland Trail Blazers, Philadelphia 76ers, Brooklyn Nets, and a second stint with the Mavericks.
In 2023, Curry emerged as a free agent. With plans of probably moving to another team, Curry and his wife Callie Rivers decided to list his Dallas property in the market with an asking price of $3.6 million. However, the Mavs guard may have to rethink selling the same property, especially after making the decision to rejoin the Mavs for the third time during the offseason by signing a two-year contract.
Here are some photos of Seth Curry's $3.6 million home in Dallas.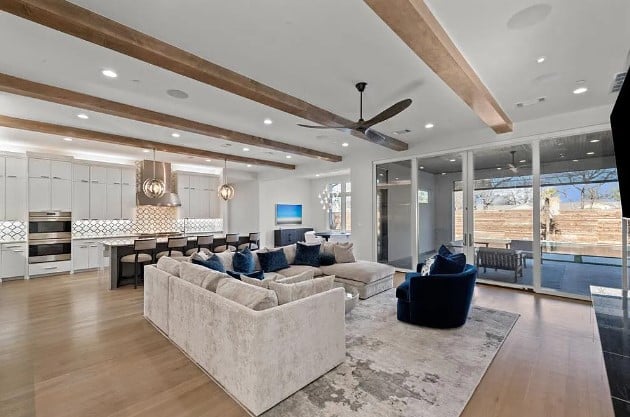 Photos courtesy of: Candy's Dirt
Jackson Stone · 1 day ago
Originally constructed in 2019, Curry's North Dallas home encompasses 6,942 square feet of living space. It includes five bedrooms and seven bathrooms.
It contains several features in terms of the interior. Some of these are highlighted by tall ceilings that are perfect for Curry's 6-foot-1 stature, a good-sized living room with a fireplace, a modern kitchen equipped with top-quality appliances, a home office, an entertainment room with its own grilling area, firepit and lounge that easily opens to the backyard.
Some of the property's outdoor features include plenty of green spaces, sufficient to start a farm or simply for gardening purposes. The backyard also contains a swimming pool.
Curry may not be an elite superstar like his brother. However, he certainly established himself as one of the best shooters in the league. As a result, it isn't surprising that he can afford to live a luxurious lifestyle. According to Celebrity Net Worth, Curry has a net worth of around $16 million.
Nevertheless, this is all the information that we have on Seth Curry's $3.6 million home in Dallas.